Giselle Power Blender, MilkShake Maker, Vegetable & Fruits Juice Maker, Nut Milk and Paste Maker (KEA0351)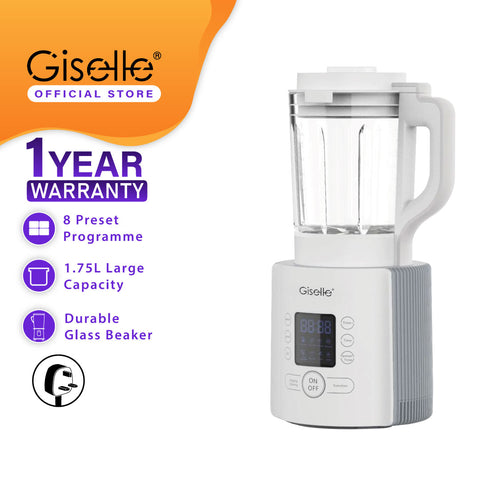 ✳️ Highlights ✳️:
⭕️ Able to do Soybean Milk, Grains, Soup, Corn Juice, Paste, Porridge, Whole Juice, Grind, Sauce, Ice Crush, Smoothies, etc.
⭕️ Multi-function option, pulse and speed control from vegetable /fruit, milkshake, supplement, multi-grain, ice-blended to Heating function
⭕️ From chopping delicate ingredients to blending tough purées, this blender is the ideal tool for supporting the demands of high-volume kitchens and processing difficult, back-to-back blends.
⭕️ Best suit for smoothie, ice crush, fruit juice, vegetable juice, soya milk, sesame soup and etc.
8片刀煮汤,炖糖水,可以磨豆。 保价一年。
Specification:
1️⃣ Durable Glass Beaker
2️⃣ Capacity: 1750ml
3️⃣ Power : 800 Watt
4️⃣ Voltage : 220V / 50Hz
5️⃣ Hot / Cold (ice blender)
6️⃣ 8 adjustable Speeds
7️⃣ Heat up very fast
8️⃣ Milk Shake Maker
9️⃣ Heating & Blending

Soup is the perfect way to use up left over food and minimize your wastage. Save space – Every kitchen struggles for space, the soup-maker is sleek and compact and fits away neatly even into the smallest of cupboards. It certainly takes up less space when cooking than a big soup pan, and a blender.