Seller SKU
▶ KEA0405
Introducing the Giselle Air Cooler, an innovative solution tailored to meet the cooling needs of residents in Malaysia's hot and humid climate. Specifically designed for students and working professionals residing in rental accommodations, this advanced air circulation system offers a sustainable and budget-friendly alternative to traditional air conditioning.
介绍Giselle制冷风扇,这是一种创新的解决方案,专为满足马来西亚炎热潮湿气候下居民的冷却需求而量身定制。此先进的空气循环系统专门为租住房屋的学生和职业人士设计,为传统空调提供了可持续且经济实惠的替代方案。
---
Highlights
The principle of the air-conditioning fan is to pump the water in the water tank to the ice curtain through the water pump, and the air blown out after the ice curtain is cooled is cooler.
Equipped with 4L water tank. Refrigerant is built into the air intake. Needs to be refrigerated for 3-4 hours before use. Chilled refrigerant can be used for both humidification and cooling modes.
Dual ice crystal refrigeration system to cooling down quickly, cool with an area in refreshing and icy.
Three (3) wind speed adjustment, the wind direction can be adjusted to left and right.
Suitable for home, office, leisure, entertainment and other occasions, light and easy to move.
Design with touch screen panel, easily control with a touch button or using with remote control.
Wind direction setting 90° left and right, 120° up and down with 3 mode of selection, normal wind, natural wind and sleeping wind
Timer setting are adjustable up to 7.5 hours.


这款空调风扇具有以下产品亮点:
冷却原理:它采用了独特的冷却机制,通过水泵将水从水箱抽到冰帘,让经过的空气更加清爽和冷凉。

大容量水箱:配备了4升的水箱,满足长时间的冷却需求。

特殊制冷剂:制冷剂被内置在进气口,并需要冷藏3-4小时。在冷却后,它不仅可以加湿,还可以制冷。

双重冰晶制冷:独特的双重冰晶制冷系统确保空气迅速降温,为您打造一个舒适的冷凉环境。

风速与风向调节:三档风速可供选择,并且风向可以左右和上下调节,更好地满足用户的需求。

广泛适用:无论是家庭、办公室还是休闲娱乐场所,都可以使用。其轻便的设计使其非常便于移动。

触摸屏面板:现代化的触摸屏设计,用户可以通过触摸按钮或遥控器进行简单操作。

多模式选择:有正常风、自然风和睡眠风三种风模式可供选择,满足不同的使用场景。

定时功能:可进行长达7.5小时的定时设置,让您在休息或工作时无需担心。

前置垂直风扇叶片:独特的前置垂直风扇叶片设计,能够实现左右摇摆,并在一定范围内提供近乎180度的广角冷风覆盖。这种设计确保了更大区域内的空间都能得到均匀的冷风供应,提高了空调风扇的实用性。
总的来说,这款空调风扇结合了多种功能与创新设计,无论是在家还是办公场所,都能为您提供一个舒适、清爽的环境。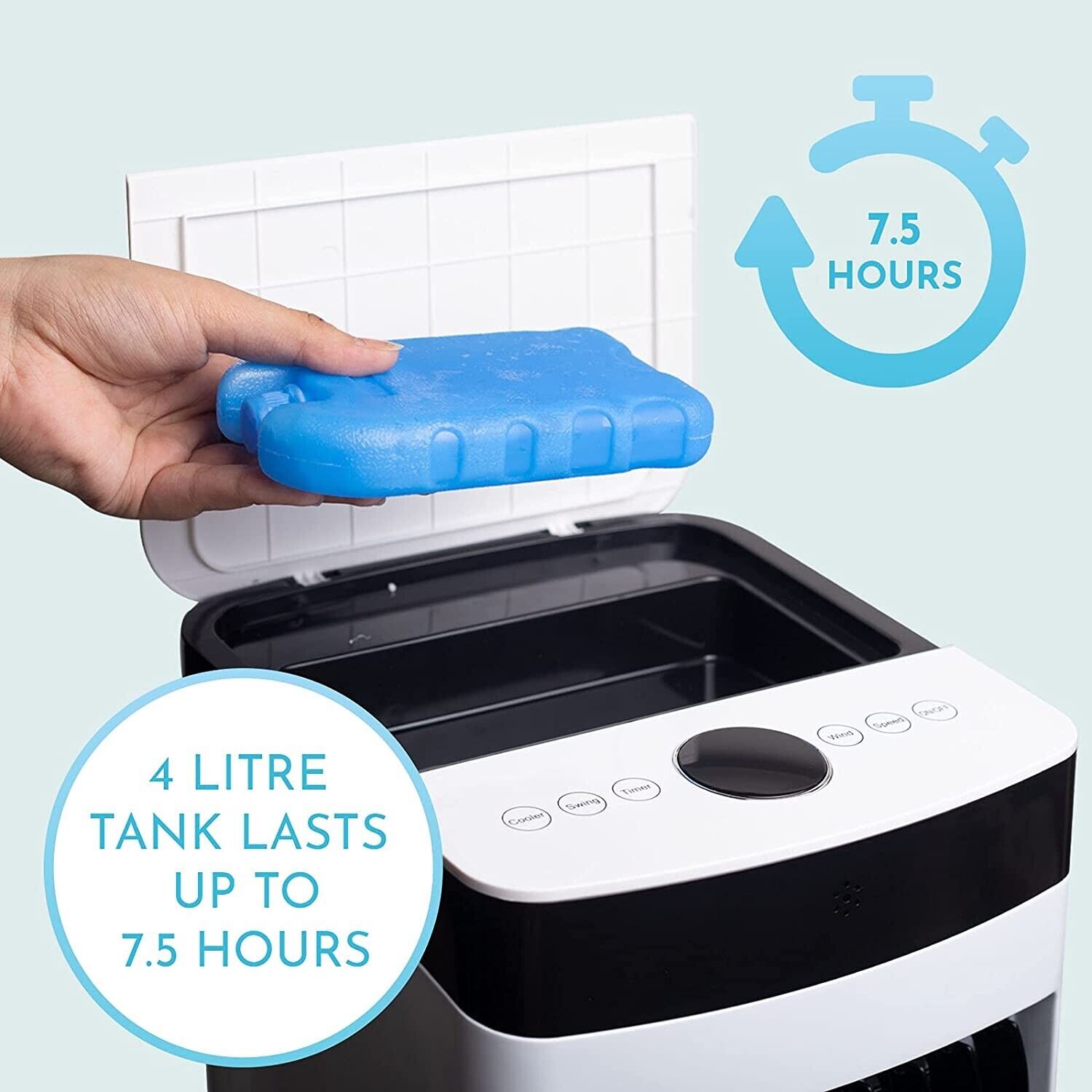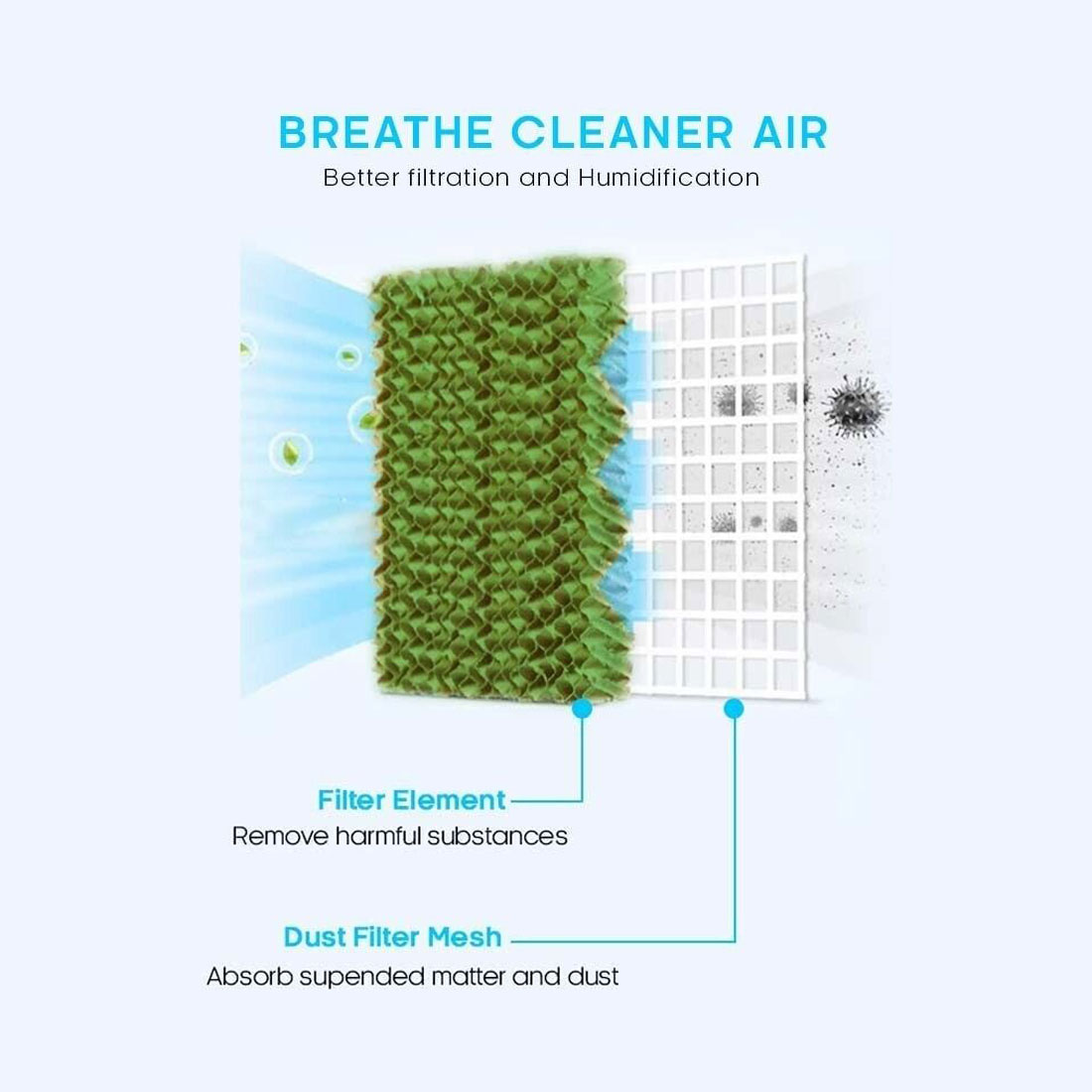 Specification
Capacity Water Tank: 4L

Plug : Malaysia 3 pin plug

Voltage : 220~240V, 50/60Hz

Fan speed: 3 gears

Wind speed control: 2 gears adjustable

Support : Timing Setting mode

Gross weight : 4.6 kg

Net weight : 3.7 kg

Size: 220*230*580mm
规格说明
水箱容量:4升

插头:马来西亚三脚插头

电压:220~240V,50/60Hz

风扇档位:3档

风速控制:2档可调

支持:定时设置模式

尺寸:230255580毫米
What's in the box
1x Air Cooler

1x Remote Control

1x Attachable Malaysia 3 pin plug

2x Ice Boxes [FREE]

1x User Manual
---
Warranty
1 Year Local Supplier Warranty.
Warranty cover for MOTOR only, wear and tear parts include digital panel are excluded for Warranty.
Giselle home appliances is suitable for HOME USE ONLY, if the product is broken under misuse of product, customer need to bear for the charges.
For warranty purpose, shipping fees are born by customers.
保修条款
1年本地供应商保修。
保修范围仅涵盖电机,磨损部件包括数码面板不在保修范围内。
Giselle家用电器仅适用于家庭使用,若因产品不当使用而损坏,客户需承担费用。
为了保修目的,运费由客户承担。