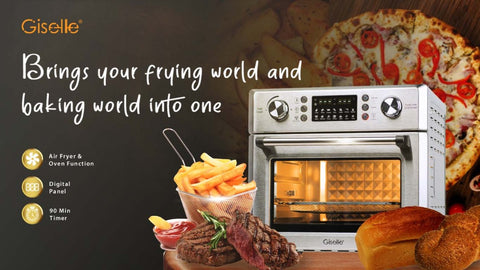 Brings your frying world and baking world into One. Not only you can bake your cake using Oven function, but you fry your crispy food oil-free using the Air Fryer Functions. 
📌 The Biggest Air Fryer 26L is More than just Air fryer📌 extends to learn more below 🔴

📌Highlight:💯📌
New convection technology:
🔴 360 ° all-round heating elements and super convection technology, designed for fast and uniform baking and baking.

🔴 The delicious cooking speed in the Giselle digital air fryer oven is the same, giving your food a better flavor.

𝗗𝗢𝗨𝗕𝗟𝗘 𝗚𝗟𝗔𝗦𝗦 𝗗𝗢𝗢𝗥 𝗪𝗜𝗧𝗛 𝗦𝗘𝗡𝗦𝗢𝗥, 𝗗𝗢𝗨𝗕𝗟𝗘 𝗦𝗔𝗙𝗘𝗧𝗬
🔴 A double glass door increases the safety in the rare cases that the inner glass door breaks from high temperatures with the sensor automatically switch off the heat once the door is opened, to ensure safety and avoid any accidents.

𝗘X𝗧𝗥𝗔-𝗟𝗔𝗥𝗚𝗘 26𝗟 𝗖𝗔𝗣𝗔𝗖𝗜𝗧𝗬
🔴 The large Air Fryer Oven in the market ensures there is always extra room for multiple dishes to cook with ease up to a party of 8 to 10 people.

𝟑𝐃 𝐀𝐈𝐑𝐅𝐋𝐎𝐖 𝐇𝐄𝐀𝐓𝐈𝐍𝐆 𝐒𝐘𝐒𝐓𝐄𝐌
🔴 Equipped with an extensive fan controlled by AI 3D Airflow heating system to efficiently control the heat stably up to 200ºC to get a more evenly cooking effect.

𝗦𝗠𝗔𝗥𝗧 𝗧𝗢𝗨𝗖𝗛 𝗪𝗜𝗧𝗛 𝟭4 𝗣𝗥𝗘𝗦𝗘𝗧 𝗙𝗨𝗡𝗖𝗧𝗜𝗢𝗡𝗦
🔴 Rigged with AI smart touch 14 Pre-set modes, light switch, adjustable temperature, and timer control to produce a wide range of high-end cuisines like a chef.


✳ Specification ✳
1️⃣ Standard Hot Air Circulations (Air fryer Functions) - provide you with more delicious and healthy food.
2️⃣ Big capacity : 26L
3️⃣ LED Display panel with knobs adjustment [ Manual Air Fryer Oven ]
4️⃣ 90 Minutes Timer
5️⃣ 200 degree Celsius
6️⃣ Air Fryer Oven : Hot Air Circulation Function
7️⃣ Power Rating : 1700 Watt
8️⃣ Double Glass Added Protection
🟠 Material 🟠
► Outer Layer Oven Material: Stainless Steel
► Inner Layer Oven Material: Galvanized sheet (镀锌板)
🟣 Measurements of Air Fryer Oven 🟣
► Outer Dimension: L 40 cm * W 41.5 cm * H 38.2 cm
► Inner Dimension: L 32 cm * W 31.5 cm * H 25 cm
❤️ Heating Tubes ❤️
Upper 2 straight tubes with Air Fryer Heating Element
Lower 2 straight tubes

⭕ Basic Accessories ⭕
1️⃣ Air Fryer Basket
2️⃣ Wire Rack
3️⃣ Crumb Tray
4️⃣ Baking Tray 

▪️ ▫️▪️ ▫️▪️ ▫️▪️ ▫️▪️ ▫️▪️ ▫️▪️ ▫️▪️ ▫️▪️ ▫️▪️ ▫️▪️ ▫️▪️ ▫️▪️ ▫️▪️ ▫️▪️ ▫️▪️ ▫️▪️ ▫️▪️ ▫️▪️ ▫️▪️ ▫️▪️ ▫️▪️ ▫️▪️ ▫️▪️ ▫️▪️ ▫️▪️ ▫️▪️

LED Display panel with knobs adjustment [ Manual Air Fryer Oven ]
14 preset functions (14-in-1 multi-function toaster oven):
1️⃣ Chip
2️⃣ Wing
3️⃣ Rotisseries Whole Chicken (Choose this function to rotate)
4️⃣ Fish
5️⃣ Steak/Meat
6️⃣ Shrimp
7️⃣ Dried Fruit
8️⃣ Bacon
9️⃣ Biscuit
🔟 Pizza
11 Toast Bread
12 Cake
13 Bunch
🔴 ADD-ON Accessories 🔴
Option 1️⃣: Fish Cage
Option 2️⃣: Rolling Cage
Option 3️⃣: Rotisserie Fork & Rotisserie Skewer
Option 4️⃣: Fetch Rack
Option 5️⃣: 304 Stainless Steel Bake Pan
Option 6️⃣: 304 Stainless Steel Air Fryer Basket
🔴 🟠 🟡 🟢 🔵 🟣 ⚫️ ⚪️ 🟤🔴 🟠 🟡 🟢 🔵 🟣 ⚫️ ⚪️ 🟤🔴 🟠 🟡 
🔴 Manual (Basic Set )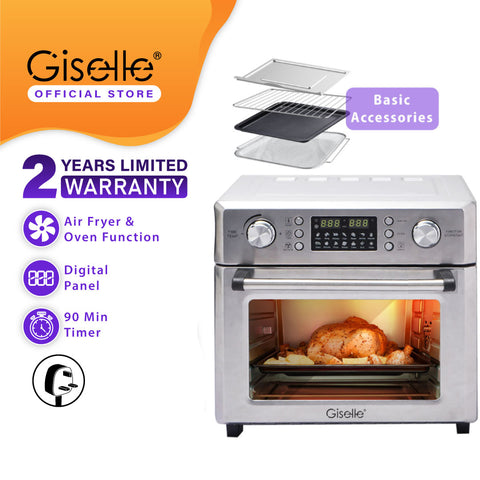 🔴 -- What's in the box:
1️⃣ Manual Air Fryer Oven
2️⃣ Air Fryer Basket
3️⃣ Wire Rack
4️⃣ Crumb Tray
5️⃣ Baking Tray
🔴 🟠 🟡 🟢 🔵 🟣 ⚫️ ⚪️ 🟤🔴 🟠 🟡 🟢 🔵 🟣 ⚫️ ⚪️ 🟤🔴 🟠 🟡 
🔴 Manual (Full Set)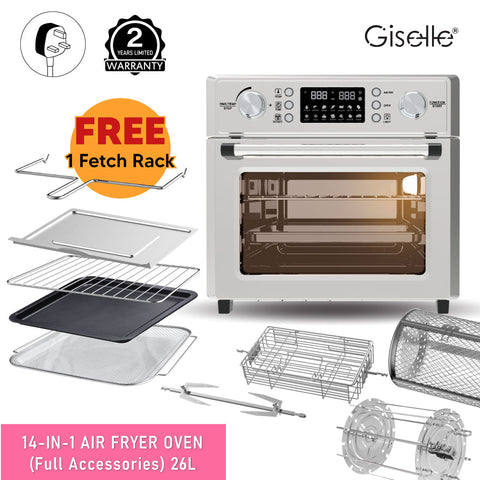 🔴 -- What's in the box:
1️⃣ Manual Air Fryer Oven
2️⃣ Air Fryer Basket
3️⃣ Wire Rack
4️⃣ Crumb Tray
5️⃣ Baking Tray
6️⃣ Fish Cage
7️⃣ Rolling Cage
8️⃣ Rotisserie Fork & Rotisserie Skewer
9️⃣ Fetch Rack (FREE)