Option 1 : Basic Set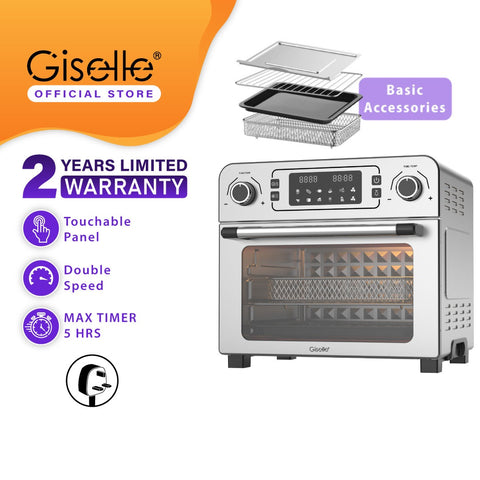 Option 2 : Full Set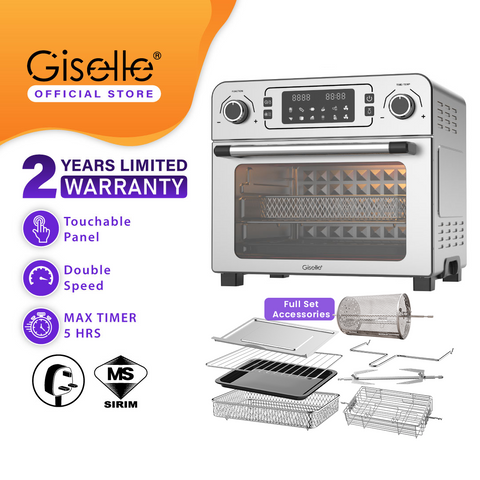 Specification
• Power Rating : 1700 Watt
• Big capacity : 23L
• Digital Touch Button
• 60 Minutes Timer
• 230 degree Celsius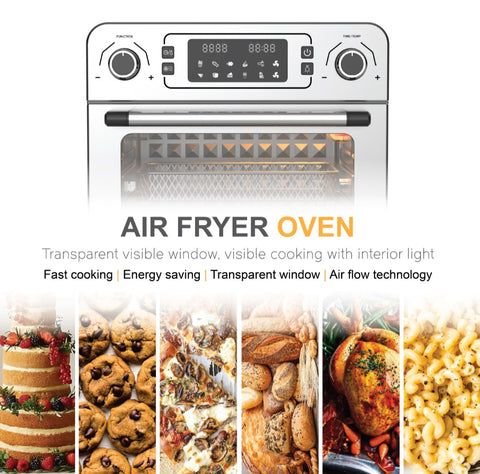 Highlight
• Small size and large capacity : Air Fryer Outer Diamension (41 cm * 39 cm * 37.5 cm), 23L, perfect fit for modern kitchen.
• Three levels of cooking enhance the space, allowing you to cook for the whole family at once.
• Back gang design helps you to store easily.
• The Giselle Air Fryer can easily accommodate 8-inch (approximately 20.3 cm) pizza, 6 slices of toast, 18 chicken wings, a whole 4-pound (approximately 1.2 kg) chicken, more than 1 kg of French fryers!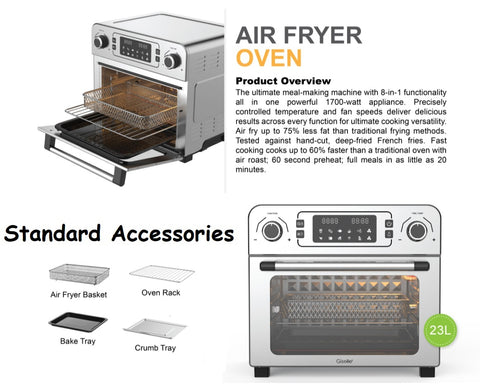 10 preset functions
• French Fry
• Fish
• Rotisseries Whole Chicken (Choose this function to rotate)
• Steak
• Chicken/Meat
• Pizza
• Toast/Bread
• Bake
• Defrost
• Dehydrate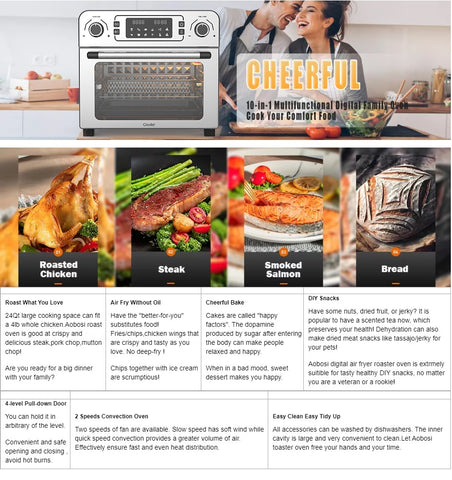 Convenience
Bake directly! You don't need to set the time and temperature separately, which is very convenient and saves time! Of course, you can design the time and temperature yourself, which is also very easy to use! No oil cooking, fewer calories and healthier!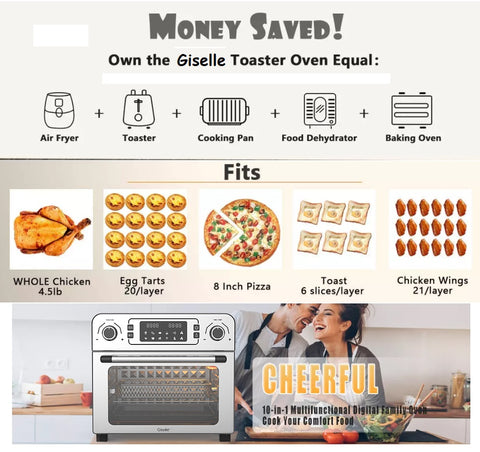 New convection technology
• 360 ° all-round heating elements and super convection technology, designed for fast and uniform baking and baking.
• 2 selectable convection speeds allow natural convection and provide a larger volume of air to ensure fast and even heat distribution.
• The delicious cooking speed in the Giselle digital air fryer oven is the same, giving your food a better flavor.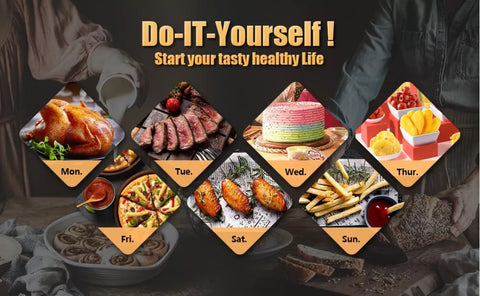 Precision digital temperature and time control
• 60 minutes timer
• 230 ° C / 450 ° F maximum temperature control.
• The Giselle Smart Toaster Convection Oven uses touch digital control technology to ensure more accurate and even time and temperature.
• LCD display, more intuitive and modern!

Baking is easier! With our premium Giselle toaster oven, you will have perfect quality and service at the same time!
 
Feature
• 4-level Pull-down Door
• You can hold it in arbitrary of the level.
• Convenient and safe opening and closing to avoid hot burns.

2 Speeds Convection Oven
• Two wind speeds are available.
• Slow speed produces soft wind while quick speed convection provides a greater volume of air.
• Effectively ensure fast and even heat distribution.

Easy Clean Easy Tidy Up
• All accessories can be cleaned by the dishwasher.
• The non-stick inner cavity is large and very convenient to clean.

Let Giselle toaster oven free your hands and your time.
Warranty
• 2 Years Limited Local Supplier Warranty.
• Warranty cover for
MOTOR
only, wear and tear parts include digital panel are excluded for Warranty.
• Giselle home appliances is suitable for HOME USE ONLY, if the product is broken under misuse of product, customer need to bear for the charges.For warranty purpose, shipping fees are born by customers.