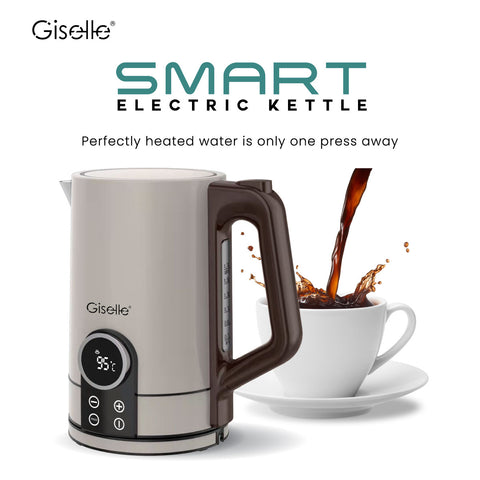 The Giselle Smart Electric Kettle efficiently boils water in minutes and maintains warm temperatures for up to two hours. With advanced built-in programs, this 1.7L 304 stainless steel kettle allows you to enjoy your favorite hot beverages with ease. Enjoy faster boiling and effortless convenience with Giselle!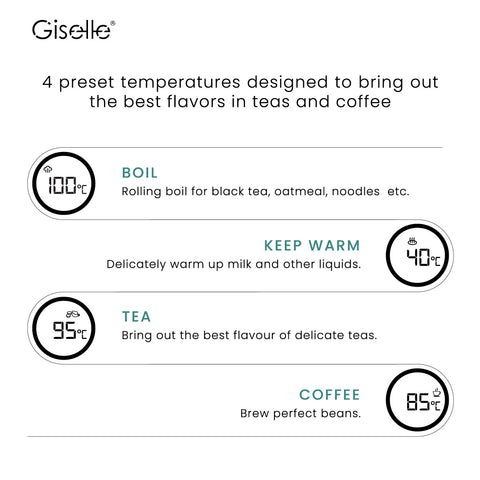 Rigged with smart touch 4 preset programs, adjustable temperature control to produce a wide range of high-end cuisines.
4 Programs kettle
• Keep Warm : 40°C [2 Hours keep warm]
• Coffee : 85°C [Instant Coffee Powder]
• Tea : 95°C [All type of Tea]
• Boil : 100°C [Black Tea, Oatmeal, Noodle] 
Adjustable Temperature
The scope of temperature settings is divided into °C, it includes:
40°C •  50°C • 60°C • 70°C • 80°C • 90°C • 95°C • 100°C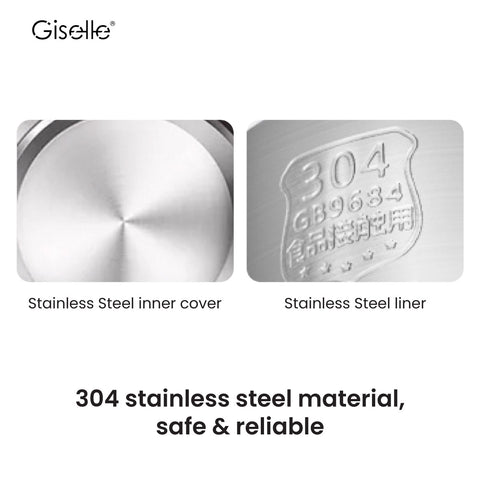 Safe and reliable
Electric Kettle made of 304 stainless steel inner cover & liner mark inside the kettle, safety to use.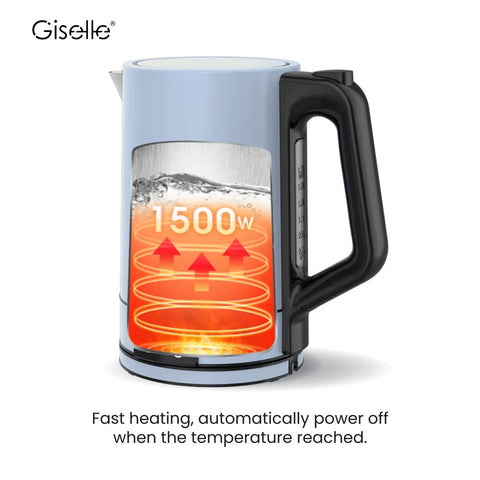 Overheating protection
The kettle will be shut down automatically when the boiling temperature reached to prevent anti-dry burning.
Visible Indicator[Easy to refer for the remaining balance water.]
1.7L Capacity [The large capacity in the market ensures there ease up to 8 - 12 cups.]
How to use?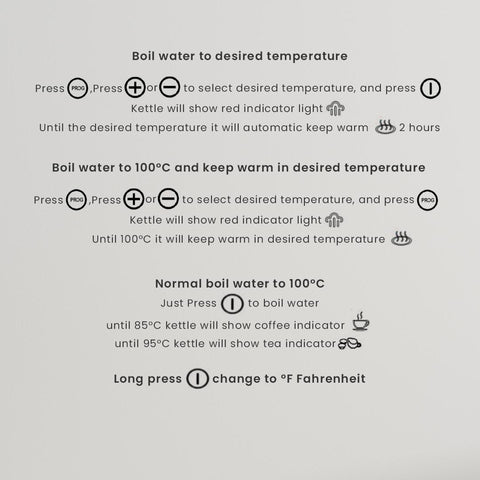 Specification
• Instant Cooking Speed
• Capacity: 1.7L
• Plug : Malaysia 3 pin plug
• Power : 1500 watts
• Voltage : 220V, 50Hz
By using Giselle 304 Smart Electric Kettle, various type of beverage temperature recommend for you
• Keep Warm - 40°C
• Low temp. Milk - 45°C
• Honey Tea - 60°C
• Lemon Tea - 70°C
• Coffee - 85°C
• Tea - 95°C
• Scented Tea - 100°C
Before first time use
You should clean it before first use. The cleaning method is as below:
Pour rated water into the kettle, not exceeding the MAX level.
Then press "power" and boil the water.
When the water boils, turn off the kettle and pour all the water out.
Warranty
• 1 Year Local Supplier Warranty.
• Warranty cover for
Heat Plate
only, wear and tear parts include digital panel are excluded for Warranty.
• Giselle home appliances is suitable for HOME USE ONLY, if the product is broken under misuse of product, customer need to bear for the charges.
For warranty purpose, shipping fees are born by customers.