🟢 SELLER SKU 🟢
▶ KEA0226
Installment demo video on Youtube (Motor will start to run only when the installation is correct):
(Upcoming)
📌 𝐇𝐢𝐠𝐡𝐥𝐢𝐠𝐡𝐭:
⭕️ Starts with 400 watts High Power Pure Copper Motor with 2 speed with Pulse Function.
⭕️ Rated Voltage is 220-240V, 50/60Hz.
⭕️ Multifunction use for 1 Motor Base with various accessories as shown in the picture
⭕️ Quality & durable
⭕️ Suitable for blending baby puree or baby food
⭕️ Lightweight & portable machine gives you a faster, mess-free operation, making it more convenient for you.
⭕️ Excellent for blending food and safety to use with stainless steel blade
⭕️ Easy cleaning and detachable
⭕️ Stylish design with anti-slip feet
📌 𝐓𝐨 𝐮𝐬𝐞:
▪ Drinking cup / Low cup - suitable for making fruit juice & sauce
▪ Chopper - suitable for meat grinding
▪ Blending jug with filter - suitable for blending family size batches of milkshake, juice, butter mix & etc.
📌 𝐒𝐩𝐞𝐜𝐢𝐟𝐢𝐜𝐚𝐭𝐢𝐨𝐧:
1️⃣ Power: 400W
2️⃣ Voltage: 220~240V/50-60Hz
3️⃣ Packing Dimension: L 47cm x W 16cm x H 26cm
📌 𝐀𝐜𝐜𝐞𝐬𝐬𝐨𝐫𝐢𝐞𝐬 𝐢𝐧 𝐭𝐡𝐞 𝐬𝐞𝐭: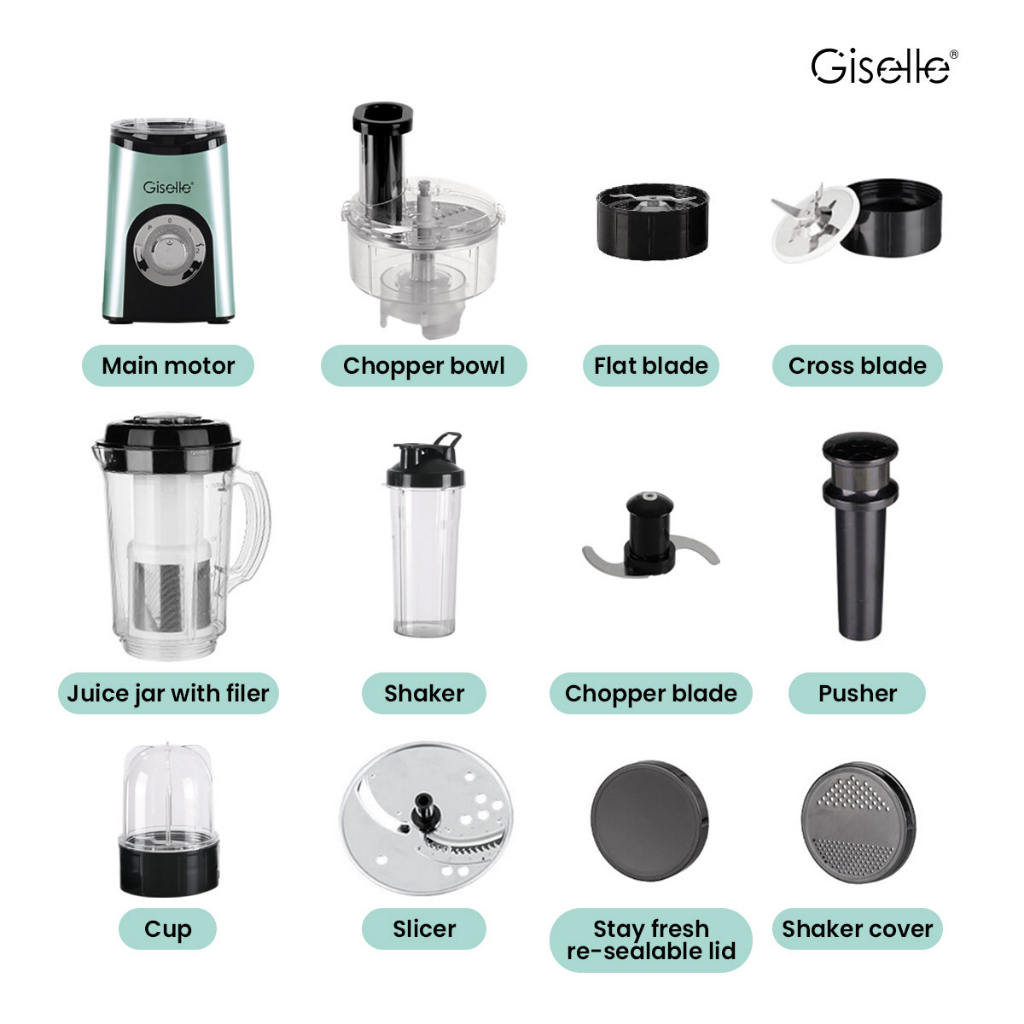 🔸 1 x User Manual
📌 𝐖𝐚𝐫𝐫𝐚𝐧𝐭𝐲:
⭕️ 2 Years Limited Local Supplier Warranty [ Customer need to register warranty at https://www.alphaliving.net/pages/warranty after you have received the item. TQ. ]
⭕️ Warranty cover for MOTOR only, wear and tear parts include digital panel are excluded for Warranty.
⭕️ Giselle home appliances is suitable for HOME USE ONLY, if the product is broken under misuse of product, customer need to bear for the charges.
For warranty purpose, shipping fees are born by customers.