The Giselle Espresso Coffee Maker is an all-in-one machine that supports Gusto, Nespresso, and powder coffee. Boasting 19 bar pressure, you can easily prepare espresso, cappuccino, and latte with a single device, guaranteeing a rich, creamy flavor and perfect crema every time.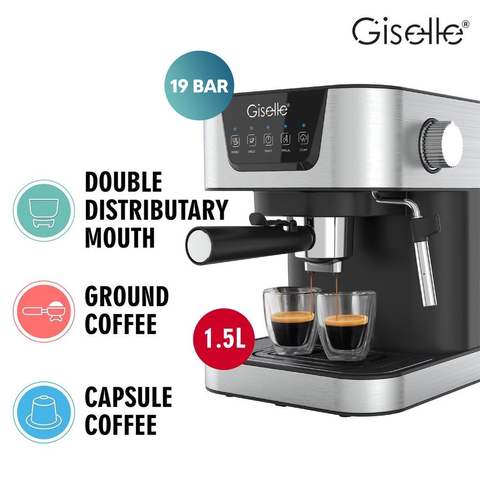 ☕️ Highlight ☕️
⭕️ The Giselle Coffee Maker Froth & Brew is a programmable coffee maker with adjustable setting panel and come with milk steamer.
⭕️ 1.5L Capacity : Giselle Coffee Maker Froth & Brew come with 1.5L capacity. Can be hold up to 2 cups in 1 serving.
⭕️ Convenient : Can be used for both ground coffee & Nespresso Capsule.
⭕️ 19 Bar Pressure : Extracts extra coffee beans flavor with 19 bar China Hong Kong Defond Pump.
⭕️ Quick : Coffee is just seconds away with the press of a button.
⭕️ Removable and washable drip tray and water tank
⭕️ Water can be poured either directly from a jug without removing it or remove to fill in the water.
⭕️ Light signal :
⭕️Start preheating - Light of power on/off indicator flash (single, double, manual button will not react)
⭕️Preheating completed - Light of power on/off indicator on
⭕️ Coffee machine will switch off in 30 mins without operation.
☕️特色☕️
⭕️ 咖啡浓度、杯数由你一手调节,备有奶泡功能。
⭕️1.5L 容量:Giselle 咖啡机 Froth & Brew 带有 1.5L 容量。一次可以泡制2杯香浓咖啡。
⭕️ 方便:可使用咖啡粉 和 Nespresso 胶囊。
⭕️ 19 巴压力:使用 19 巴中国香港 Defond 泵提取。
⭕️ 快速:按下按钮只需几秒钟即可获得咖啡。
⭕️ 可拆卸滴水盘 & 水箱 - 易于清洁。
⭕️ 水可以直接从水壶中倒出而无需将其取出,也可以取出以填充水。
⭕️ Light signal 灯光信号:
⭕️开始预热 - 电源开/关指示灯闪烁(单,双,手动按钮不会反应)
⭕️ 预热完成 - 电源开/关指示灯亮
⭕️ 咖啡机将在 30 分钟内关闭若无操作。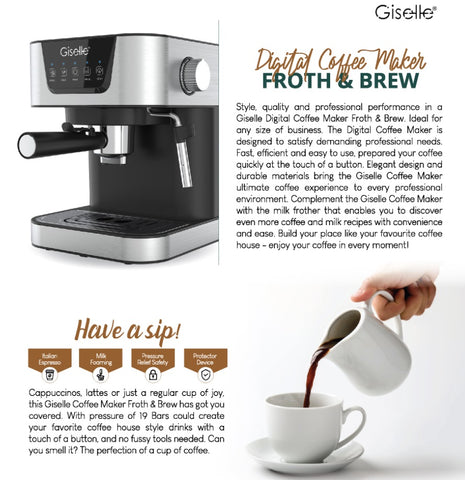 ☕️ 𝐒𝐩𝐞𝐜𝐢𝐟𝐢𝐜𝐚𝐭𝐢𝐨𝐧 ☕️
1️⃣ Power: 1050W
2️⃣ Pressure: 19 Bar
3️⃣ Defond Pump : 19 Bar China Hong Kong
4️⃣ Capacity : 1.5L
5️⃣ Gross / Net Weight : 4.72 kg / 3.73 kg 
6️⃣ Cable Length : 75 cm
🔴 🟠 🟡 🟢 🔵 🟣 ⚫️ ⚪️ 🟤🔴 🟠 🟡 🟢 🔵 🟣 ⚫️ ⚪️ 🟤🔴 🟠 🟡 
📌 𝐃𝐢𝐟𝐟𝐞𝐫𝐞𝐧𝐭𝐢𝐚𝐭𝐢𝐨𝐧 📌
𝐎𝐩𝐭𝐢𝐨𝐧 𝟏 ▶ 𝐆𝐢𝐬𝐞𝐥𝐥𝐞 𝟏𝟗 𝐁𝐚𝐫 𝐂𝐨𝐟𝐟𝐞𝐞 𝐌𝐚𝐜𝐡𝐢𝐧𝐞 (𝟏𝟎𝟓𝟎𝐖) - 𝐊𝐄𝐀𝟎𝟑𝟑𝟐 (𝐁𝐚𝐬𝐢𝐜 𝐒𝐞𝐭)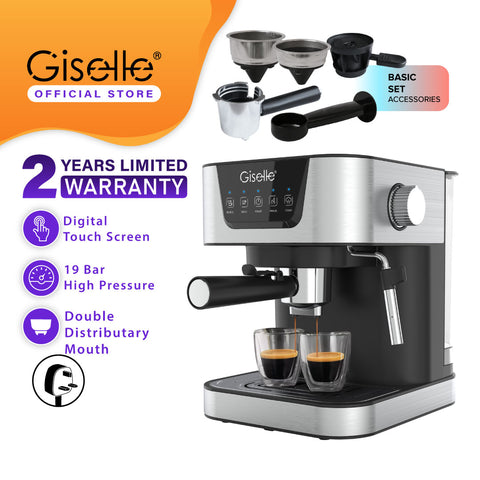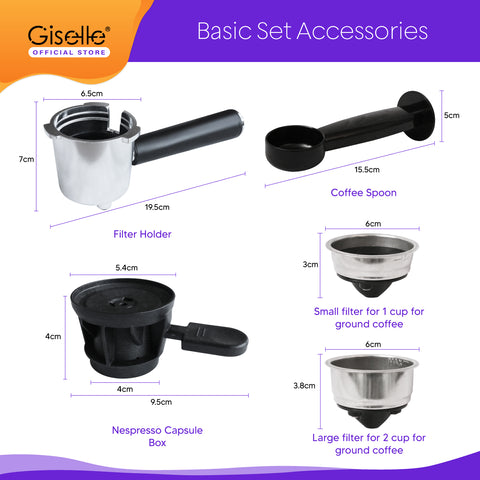 𝐖𝐡𝐚𝐭'𝐬 𝐢𝐧 𝐚 𝐛𝐨𝐱 :
Coffee machine body ×1

1 cup ground coffee SUS304 filter x1

2 cups ground coffee SUS304 filter x1

Ground Coffee Adaptor x1

Coffee Spoon ×1

FREE Nespresso capsule filter x1
𝐎𝐩𝐭𝐢𝐨𝐧 𝟐 ▶ 𝐆𝐢𝐬𝐞𝐥𝐥𝐞 𝟏𝟗 𝐁𝐚𝐫 𝐂𝐨𝐟𝐟𝐞𝐞 𝐌𝐚𝐜𝐡𝐢𝐧𝐞 (𝟏𝟎𝟓𝟎𝐖) - 𝐊𝐄𝐀𝟎𝟑𝟑𝟐𝐅𝐒 (𝐅𝐮𝐥𝐥 𝐒𝐞𝐭)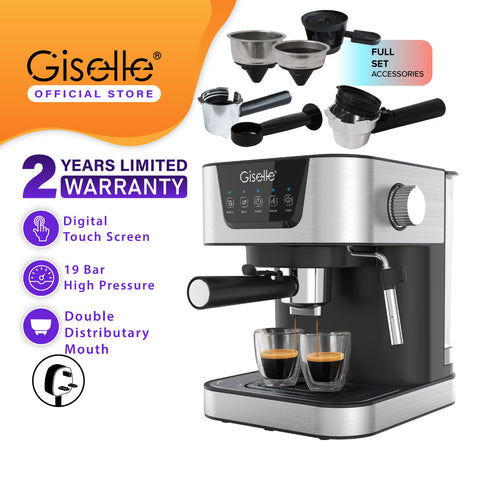 𝐖𝐡𝐚𝐭'𝐬 𝐢𝐧 𝐚 𝐛𝐨𝐱 :
Coffee machine body ×1
1 cup ground coffee SUS304 filter x1
2 cups ground coffee SUS304 filter x1
Ground Coffee Adaptor x1
Coffee Spoon ×1
Free Nespresso capsule filter x1
Dolce Gusto capsule filter x1